Beatles vs Stones - Battle of the Brits!
Presented by VaughnCo Entertainment
January 29 Corner Brook | January 30 Gander | January 31 St. John's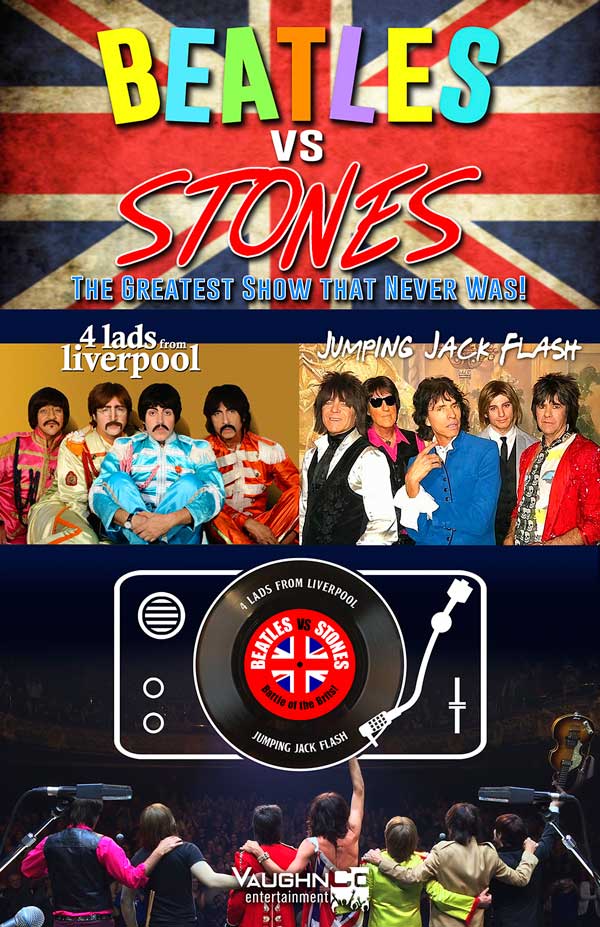 Synopsis
VaughnCo Entertainment is proud to present the ultimate Beatles vs Stones tribute show.
Don't miss this amazing show Beatles vs Stones Featuring '4 Lads from Liverpool' and 'Jumping Jack Flash'. Based out of Los Angeles, California this show has been wowing audiences worldwide and makes light of the infamous rivalry between the two greatest bands of the rock & roll era.
The show begins with The Beatles (4 Lads from Liverpool ) in their famous black suits followed by the Rolling Stones (Jumping Jack Flash) in their early 60's look.
As the show (and historical timeline) progresses, you will witness the Beatles in their Sgt. Peppers wardrobe, the Stones in mid-60's psychedelic finery, and then finally the fashions of the late 60s, early 70s.
The grand finale is a mash-up of both a Beatles and Stones hit—yet another back & forth clash of these musical titans, and culminates with a cast-member asking the audience, "Well who won tonight? Was it the Beatles or the Stones"? In the end, though, those in the audience are the real winners, having experienced such a magical night!
If you didn't see the Beatles & the Stones in the 1960s, here's your second chance…
Details
TICKETS:  $52.50 Each  HST & service charge included
SHOWTIME: 7:30 pm
DATES & LOCATION: Click a location below to BUY TICKETS links for that Centre
January 29 - CORNER BROOK, Arts & Culture Centre
January 30 - GANDER, Joseph R Smallwood Arts & Culture Centre
January 31  - ST. JOHN'S, Arts & Culture Centre 
RECOMMENDED AUDIENCE AGE: TBD
SHOW LENGTH: All Ages
INTERMISSION: Yes