UPDATE: Tour dates rescheduled and new dates announced.
We have rescheduled this tour and the new dates are listed below. Current ticket holders will be moved to the rescheduled date and will retain their assigned seats. Please keep your printed or electronic tickets as they will be honoured on the new date.  If you are unable to attend the new dates and require a refund or more assistance the box offices will be in touch once it is safe to re-open. Thank-you for your patience and continued support.
The Kraken & The Brass Button Man
Shadow Puppet Double-Feature
Presented by the Arts & Culture Centres
FREE FAMILY SHOW -  2021 TOUR
*NEW DATES*
Stephenville May 2, 2021 - 2:00 pm
Labrador West May 4, 2021 - 7:00 pm
Corner Brook May 6, 2021 - 7:00 pm
Tickets available by calling the box office
---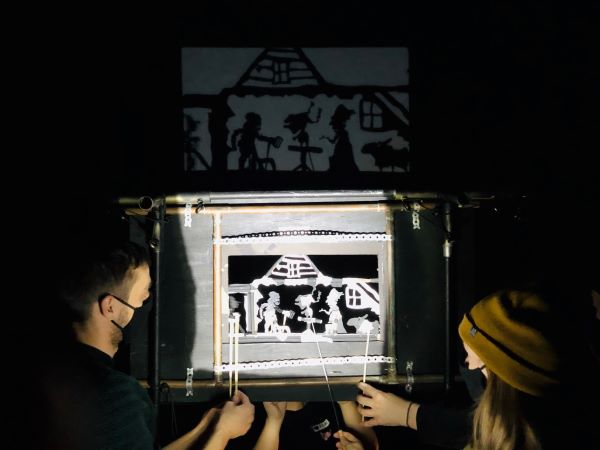 Synopsis
Bring your whole family bubble to this double-feature!
These are shadow puppet plays using old-time crankie boxes, moving panoramas, and 3D printed puppets to tell legends from Newfoundland and Labrador.
The Kraken
When the quaint town of Pickled Capelin Cove is besieged by a Leviathan from the sea, it's up to the town's most precocious resident, Beverley Rose, and her pet sheep, Ba, to try and save the day.

The Brass Button Man
The Brass Button Man is an original piece of theatre, told through shadow puppets and moving panoramas, reflective of the storytelling traditions of Newfoundland and Labrador. It's a folktale from Burnt Islands, which tells the story of the Brass Button Man, a local legend, who haunts the local strait on foggy nights. If you're on the strait in the fog he will sneak up on you, tap you on the shoulder, and ask for brass buttons. If you have one - you're safe, but if you don't he will take you away in his dory, never to be seen again.

Produced by Under the Bridge Productions / Salt Teeth Theatre Co / RCA Theatre
---
Details
TICKETS: FREE
BOOK WITH YOUR BUBBLE: Tickets need to be booked in advance by calling the box office at 709-729-3900. 
DATES/ LOCATION/ BOX OFFICE NUMBERS:
May 2, 2021 at 2:00 pm
STEPHENVILLE, Arts & Culture Centre 
709-643-4553
May 4, 2021 at 7:00 pm
LABRADOR WEST, Arts & Culture Centre 
709-944-7132
May 6, 2021 at 7:00 pm
CORNER BROOK, Arts & Culture Centre 
709-637-2580
SHOW LENGTH: 45 minutes
INTERMISSION: None
RECOMMENDED AUDIENCE AGE: All Ages
ONLINE SALES: Online sales are not available for this performance.  Please call the box office to book your group.
---
Theatre Seating 
For all performances happening in 2020, every second row will remain empty.  

This means the rows/seats directly in front of and behind you will be empty.

When calling to book tickets the box office staff will also block off three seats on either side of your group to ensure physical distancing between bubbles/patrons in the same row. 

Please CLICK HERE for more information about coming to the theatres. 

Please call the box office to book your seats. We thank you for your patience as we may experience delays with higher than normal call volumes.

The image below is a close up example of how seating will look.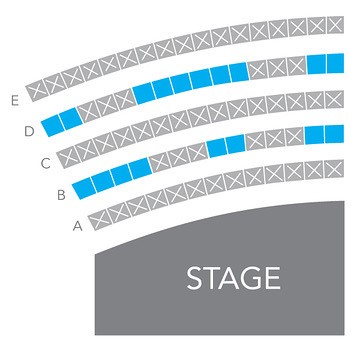 ONLINE SALES NOT AVAILABLE FOR THIS PERFORMANCE.
PLEASE CALL THE BOX OFFICE TO BOOK YOUR FREE TICKETS.